Priorities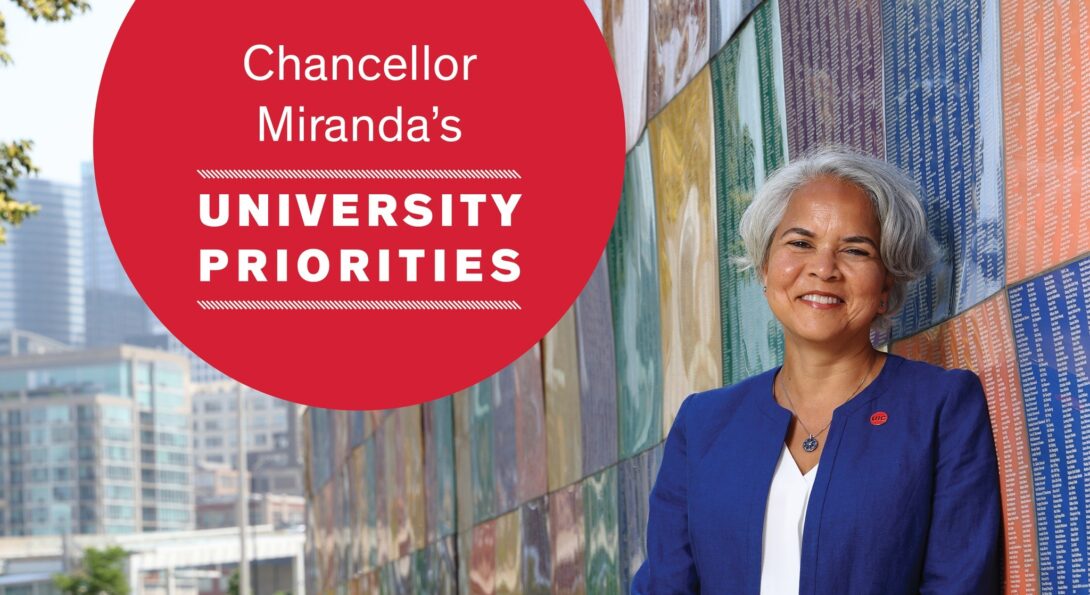 Early in her UIC tenure, Chancellor Miranda held intentional conversations with students, faculty and staff to develop goals to move the university forward collectively. Feedback during subsequent discussions with campus stakeholders such as the Faculty Senate, student leaders, Staff Advisory Council,  Academic Professionals Advisory Council, deans, executive cabinet and others led to Chancellor Miranda's creation of a mission, values and overarching priorities for UIC that she shared in her State of the University address.
Mission
To provide the broadest access to the highest levels of educational, research and clinical excellence.
Values
Our shared commitment to access, vitality, empowerment and creativity is our collective superpower.
Priorities
Our top priority is student success, focusing on recruitment, retention, and graduation while fostering a sense of belonging and connection among all students–undergraduate, professional and graduate.
Research infrastructure is the second priority, positioning UIC at the forefront of knowledge and discovery.
Our third priority is engagement with our community to improve access to educational opportunities and clinical care in underserved communities, making our world more equitable, efficient and sustainable.
Our fourth priority is partnerships with businesses and nonprofits to enhance faculty opportunities and strengthen student engagement and employment opportunities.
Recruiting and retaining the best faculty and staff is our final priority. It matters that the people who make our university excel feel seen, valued and motivated.