UIC Office of the Chancellor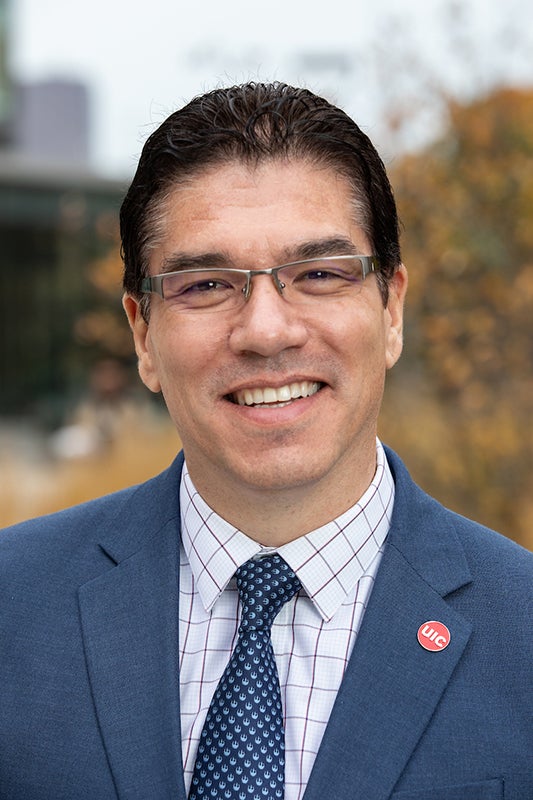 The University of Illinois Chicago, the city's largest and only public university that holds the distinguished R1 research status in the Carnegie Classification of Institutions of Higher Education, is led by interim Chancellor Javier Reyes. He officially assumed the role July 1, 2022, following the departure of Chancellor Michael Amiridis for the presidency of the University of South Carolina.
Reyes previously served as provost and vice chancellor for academic affairs at UIC. In this role, he was the university's chief academic officer to advise on matters of academic policy, strategic direction, enrollment management and academic resource planning. Before joining UIC in 2021, Reyes was West Virginia University's Milan Puskar Dean of the John Chambers College of Business and Economics from 2016-2021 and vice president for StartUp West Virginia from 2018-2021.
Interim Chancellor Reyes is committed to expanding upon UIC's inclusive campus culture, pioneering spirit, and realizing the vision to transform the world through eliminating disparities in economic opportunities, health and education.
He sees UIC as "a dynamic national leader in higher education with tremendous impact as a world-class research university that is home to a culturally rich and diverse student body."
As UIC's interim chancellor, Reyes heads Chicago's largest university campus, with more than 33,000 students, a $3.6 billion budget, 13,000 faculty and staff, and 16 academic colleges, including one of the nation's largest medical schools and Chicago's first and only public law school. UIC also operates the state's major academic health enterprise, the University of Illinois Hospital & Health Sciences System (UI Health), along with a network of federally qualified clinics and regional health sciences campuses in Peoria, Rockford and Urbana-Champaign.