Office of the Chancellor
The University of Illinois Chicago, the city's largest and only public university that holds the distinguished R1 research status in the Carnegie Classification of Institutions of Higher Education, is led by Chancellor Marie Lynn Miranda. She officially assumed the role July 5, 2023.
As UIC's chancellor, Miranda heads Chicago's largest university campus, with more than 33,000 students, a $3.6 billion budget, 13,000 faculty and staff, and 16 academic colleges, including one of the nation's largest medical schools and Chicago's first and only public law school. UIC also operates the state's major academic health enterprise, the University of Illinois Hospital & Health Sciences System (UI Health), along with a network of federally qualified clinics and regional health sciences campuses in Peoria, Rockford and Urbana-Champaign.
Miranda was one of 13 honorees from the business and nonprofit worlds recognized as Women of Note by Crain's Chicago Business in 2023.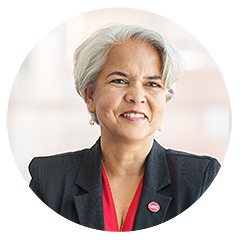 "UIC stands out among great public universities because we live our mission to provide the broadest possible access to the highest levels of educational, research, and clinical excellence."

|
$ 460 M Annual sponsored research funding

60 % of UIC undergraduates are Pell Grant eligible

Chicago UIC is the city's only public research university